Access to Awaji Island
Awaji Island is located in the middle of the Kansai region and Shikoku region. It is conveniently located near various airports and major cities.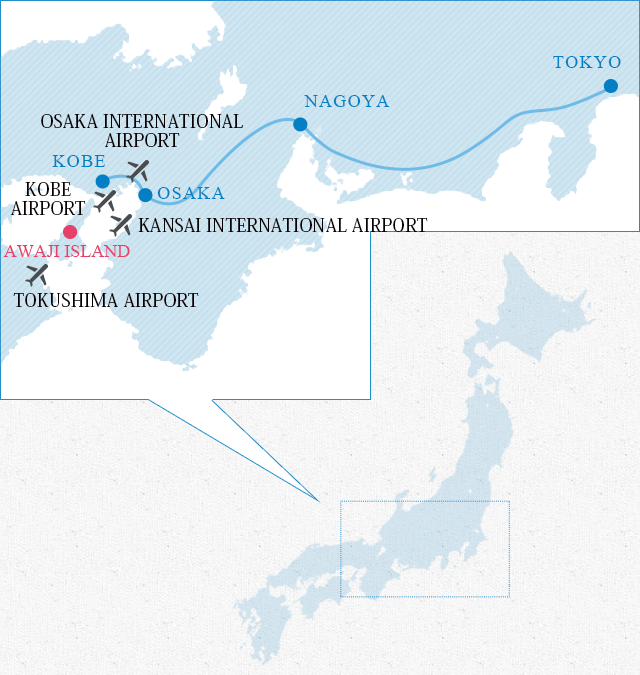 Access from the airport

Osaka International Airport
Airport Limousine Bus: to Kobe (Sannomiya)
about 40 minutes
JR Sannomiya Station
By Highspeed Bus
Awaji Yumebutaiabout 45 minutes
Sumoto Bus Centerabout 85 minutes
Fukura Bus Terminalabout 90 minutes
Kansai International Airport
Kansai Airport Limousine Bus
about 120 minutes
Sumoto I.C.
Access from major cities

Osaka
JR TOKAIDO MAIN LINE RAPID TRAIN
about 25 minutes
JR Sannomiya Station
By Highspeed Bus
Awaji Yumebutaiabout 45 minutes
Sumoto Bus Centerabout 85 minutes
Fukura Bus Terminalabout 90 minutes
Kyoto
JR TOKAIDO MAIN LINE RAPID TRAIN
about 55 minutes
JR Sannomiya Station
By Highspeed Bus
Awaji Yumebutaiabout 45 minutes
Sumoto Bus Centerabout 85 minutes
Fukura Bus Terminalabout 90 minutes
Access by car

Kansai International Airport
Hanshin Expressway
about 60 minutes
Suma
Through Daini Shinmei Road
about 25 minutes
Myodani JCT
Kobe-Awaji-Naruto Expressway
Awaji Island