Model Courses
Awaji Island Once Around
Completing this "century" ride is the best feeling in the world!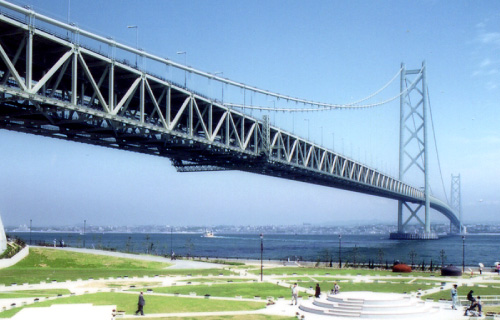 COURSE
Iwaya Port
Ura (Higashiura)
Shizuki
Kaigandori (Sumoto)
Yura
Nada Habu
Fukura
Michi-no-Eki Uzushio
Minato
Tsushi
Gunge
Iwaya Port
This is the course to set your sights on! From Iwaya down to Sumoto there is a lot of car traffic, but past Yura you reach the mountainous southern section. From Fukura to Minato is a lot of up-and-down on the coastal road, as well. The final 50 km is tough. A neverending coastal road takes you northward. You can also stay overnight or change the starting point.
| | |
| --- | --- |
| Distance | 150.4km |
| Total climb | 2,092m |
| Highest elevation | 156m |
| Estimated time | 10hrs |
The estimated time for the ride is calculated on the basis of a 15 kph average speed. This may vary according to road conditions, etc.
Photogenic Spots and Other Popular Destinations
Eshima

Michi-no-Eki Higashiura Terminal Park Rest Area

Ohama Beach

Oishi Park

Tachikawa Narcissus Field

Awaji Island Monkey Center

Nada-Kuroiwa Narcissus Field

Michi-no-Eki Fukura

Uzushio Cruise

Awaji Ningyo-za Theater

Michi-no-Eki Uzushio

Uosaikan (Maruyama Fishing Port)

Keino Matsubara

Hokudan Earthquake Memorial Park

HELLO KITTY SMILE

Michi-no-Eki Awaji